Meet Your Lawyer
Meet Your Lawyer – Mark R. Matney is a lawyer who concentrates on driving related matters. He fights for those charged with DUI, reckless driving, speeding, suspended license and other traffic related charges. He also helps people who have been injured in vehicle accidents and those who are seeking reinstatement of their driving privileges.  Matney Law, PLLC, provides legal services throughout Hampton Roads with a focus on the cities of Newport News, Hampton, and Williamsburg and the counties of York, James City, New Kent, Isle of Wight, and Surry. 

Training and Bar Memberships
Mr. Matney is committed to continuing to improve his ability to help his clients. He is a member of and participates in training through the National College for DUI Defense (NCDD), the Virginia State Bar, and the Newport News Bar Association. Furthermore, he received training with one of the breath machine manufacturers to obtain his Certificate of Competency in the Basic Science of Evidential Breath Alcohol Testing.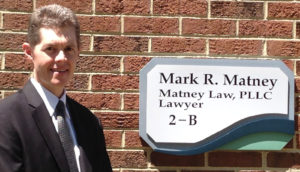 Law Degree
Mr. Matney obtained his law degree in 1992 from the Marshall Wythe School of Law at the College of William and Mary. As an undergraduate at The American University in Washington, DC, he completed a B.A. in International Studies in 1989 with minors in business and French. In 2005, Mr. Matney achieved his Master of Divinity degree by graduating summa cum laude from Evangel Theological Seminary.
Professional Memberships & Bar Admissions
Virginia State Bar
U.S. District Court for the Eastern District of Virginia
U.S. Court of Appeals for the Fourth Circuit
National College for DUI Defense (NCDD)
Newport News Bar Association
Local Counsel for Federal Civil Cases
Mr. Matney's role as an allied attorney with ADF has included assisting out of state law firms with their representation of Virginia clients in cases involving election law, religious freedom, and free speech.
Herb Lux v. Virginia State Board of Elections, USDC – Richmond, 3:10-cv-482, 2010 to 2012
Local counsel for The Bopp Law Firm.  Challenged Virginia election law on behalf of Tea Party candidate for congress.  The Virginia Code was amended as a result of this case.
Christian Rights Ministries v. City of Chesapeake, USDC – Norfolk, 2:08-cv-154
Local counsel for Alliance Defending Freedom.  A ministry was asked to remove their cross from their booth at the end of a parade.  The City defended by claiming that there was a safety issue.  The case settled.
U.S. v. William Danielczyk, USDC – Alexandria, 1:11-cr-85 (JCC)
Local counsel for The Bopp Law Firm.  Assisted with filing amicus curiae brief on behalf of The James Madison Center for Free Speech re: campaign contributions by corporations as free speech.